Meet Our Expert

Management Team:

Driving Success and Innovation in Education
QualCampus Management Team
Our team is composed of a diverse group of experienced management, technical, and administrative personnel with backgrounds from top universities, boards of studies, colleges, and schools. We take pride in our team's expertise and ability to implement the latest solutions to the challenges faced by the education industry.
Our management team is a right blend of seasoned professionals who are passionate about driving our company's success and delivering exceptional results for our clients. Our team is in direct touch with education experts, ERP managers from various universities, colleges, and schools, ensuring that we are always up-to-date with the latest trends and technologies in the industry.
We believe that our team's diverse backgrounds and skills are what sets us apart, allowing us to provide unique and innovative solutions to our clients. With our expertise and experience, we are committed to helping our clients navigate the ever-changing landscape of the education industry and achieve their goals.
Connect with us today to learn more about our management team and how we can help your business succeed.
Shaikh Manzoor
Chief Executive Officer
Shaikh Manzoor is the CEO of the QualSoft.
He has brought in his experiences of work with different types of Companies in India and abroad.
He has also served leading IT infrastructure companies before joining Qualsoft.
He is subject matter expert in Finance and Marketing.
His areas of Interest are Finance, Digital Marketing, CRM & SIS.
He has done his Masters in Business Administration in Finance.
Mr. Anurag Nigam is a proponent of the free online education movement and currently leads Tanoshige Technologies Pvt Ltd.
With previous experience at IBM, USA, and IISc, Bangalore, he regularly conducts training sessions for organizations such as ISRO, DRDO, Motorola, and Telecom Malaysia.
He is deeply passionate about 5G and semiconductor fabrication, and he actively promotes these fields in his work.
In addition to his professional pursuits, Mr. Nigam is a YouTuber and avid reader of books.
Vishal Rathod
Director - Quality Assurance
Vishal Rathod is a highly accomplished Director of Quality Assurance with 12 years of experience in IT and Software Quality
He is an expert in Biometrics and Software Testing
Vishal Rathod has a keen interest in Biometrics, MOOC, LMS & NAAC Accreditation, and keeps up to date with the latest industry trends and developments
He has taught IT-related subjects at various colleges and is passionate about teaching
Vishal Rathod holds a Masters in Science degree from Gulbarga University, demonstrating his commitment to ongoing professional development and growth
His extensive knowledge and experience make him a valuable asset to any organization
Shaikh Muzammil
Director-Sales & Implementation
Shaikh Muzammil, is responsible for leading the Sales & Implementation Team QualSoft
He brings more than 15 years of experience. He has led many successful implementations of Qualcampus Education ERP at various Colleges, Schools and Universities across globe.
He is also a subject matter expert who understands education domain and can consult on how technology can improve teaching, accreditation, operations, finance, hr and more
Mr. Muzammil is also served as a Member of Board of Studies at Dr. Babasaheb Ambedkar Marathwada University, Aurangabad, Maharashtra, India
He has also served Project Manager for various projects in the Company.
He has a bachelor's degree in Engineering from Jawaharlal Nehru College of Engineering, Masters in Project Management from Sikkim Manipal University, Post Graduate Diploma in Advanced Computing from C-DAC and Bachelor of Law from Dr. Ambedkar College.
He is a Fitness Enthusiast and loves travelling & reading books.
Vinod Kumar is one of the Director
He brings in 20 years of experience in IT and Software Quality
He is domain expert Retail and Supply chain management
His area of Interest is ecommerce..
He has completed his Bachelor in Engineering.
QualCampus Advisory Board
Our Management team works in close collaboration with our advisory board members to ensure that we stay at the forefront of innovation and implement the latest solutions to address the challenges faced by the education industry.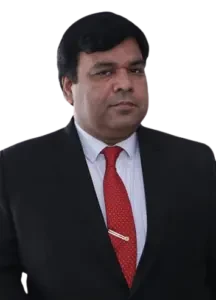 Dr. Abhijit N. Banubakode
Member Advisory Board
Dr. Abhijit N. Banubakode is an Advisory Board member at QualSoft with 22+ years of experience in teaching, industry training, and administration.
He earned a Ph.D. from Symbiosis International University in India with a focus on the study of query optimization in compressed object-oriented database management systems.
Dr. Banubakode oversees academic activities aligned with AICTE, DTE, FRA, and SW standards, conducts C-DAC and MCA programs, and manages admissions and placements.
He promotes industry-institute interaction, coordinates research and development activities, and advises on academic matters.
Dr. Banubakode represents the institute at various state and regional bodies and is skilled in implementing and using ERP systems in educational institutes.
QualCampus Team Report & Team Structure
At QualSoft, we believe that a strong and cohesive team is the foundation for achieving our mission of providing innovative e-learning solutions to our clients. Our team is made up of experienced professionals who bring diverse skills and perspectives to the table.
Our team is structured into three main departments:
Development Team: This team is responsible for developing and maintaining our e-learning platform, ensuring it is reliable, user-friendly, and meets the needs of our clients.
Customer Success Team: This team is dedicated to ensuring our clients have the best possible experience using our QualCampus platform. They provide support, training, and guidance to help clients achieve their objectives.
Marketing Team: This team is responsible for creating and executing marketing strategies to promote our QualCampus platform and attract new clients.